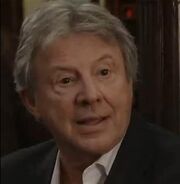 Dennis Tanner is the son of Elsie Tanner and a resident of Coronation Street from 1942 to 1968 and again as of 2011.
Dennis was the black sheep of the Tanner family. An ex-borstal boy, Dennis pursued a legitimate career as a talent scout for Lenny Phillips and spent a few years working in clubs. His camp, charming manner made him a natural entertainer, but his hare-brained schemes never went to plan and after a few years he quit the business.
In 1968, now a sales rep, Dennis married Jenny Sutton and moved to Bristol. Five years later he was sent to prison for conning old age pensioners, and Jenny left him. In 2011, Dennis is homeless having fallen on hard times. He currently lives with old flame and new fiancée Rita Sullivan and has settled back into life on Coronation Street.
External links